Active Shooter/Violent Intruder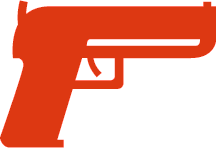 If facing an active shooter/violent intruder situation, use the below recommendations to guide your response decisions.
RUN – when an active shooter/violent intruder is nearby:
Immediately evacuate if there is a safe escape path
Evacuate yourself whether others around you agree to evacuate or not
Leave your belongings behind
When you are safe, call MIT Police (x100 or 617-253-1212) to report the attacker
HIDE – if you are not in immediate danger or evacuation is not possible, find a safe place to hide:
Lock and/or barricade all door(s) and entrances
Turn off lights and lower window shades
Silence your cell phone and other electronics
Hide behind large, thick objects
Remain silent
Your hiding place should:
Be out of the attacker's view
Provide protection from gun shots or weapons
Not trap or restrict your options for movement
FIGHT – as a last resort and only if your life is in immediate danger:
Attempt to incapacitate the active shooter / violent intruder
Act with physical aggression
Use improvised weapons
Work together with others
Commit to your actions
Don't pick up the active shooter / violent intruder's weapon
Information You Should Provide to the Emergency Dispatcher:
Your exact location
Location of the active shooter / violent intruder
Number of attackers, if more than one
Physical description of attacker(s)
Number and type of weapons held by the attacker(s)
How to React When Law Enforcement Arrives:
Remain calm, and follow officers' instructions
Raise hands and spread fingers
Keep hands visible at all times
Avoid making quick movements toward officers
Do not stop to ask officers for help
Prevention and Preparedness 
The Institute has numerous measures in place that are  designed to prevent, prepare for, and respond to an active shooter / violent intruder incident:
Ways to Report Concerning Behavior:
Prevention:
Behavioral Assessment and Response Team (BART)
Mental Health Resources:
Active Shooter/Violent Intruder Training
In conjunction with MIT Police, MIT Emergency Management conducts two progressive phases of Active Shooter/Violent Intruder training for the MIT community. The first phase is a classroom-based training that reviews communications, shows the Ohio State "Surviving an Active Shooter" video, and teaches the Run, Hide, Fight methodology. The second phase is a walkthrough of your area to provide specific suggestions on how to best improve and/or utilize the space. Visit this page, or email em-staff@mit.edu, to learn more.